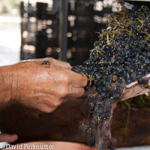 The Judean Hills was an important center of grape cultivation and wine production in Ancient Israel. The centrality of wine to the area is expressed in Jacob's blessing to Judah (Genesis 48:11-12): Binding his foal unto the vine, and his ass's colt unto the choice vine; he washeth his garments in wine, and his vesture in the blood of grapes. His eyes shall be red with wine, and his teeth white with milk. The grapevine were so prevalent in the Judean Hills, that it was obvious that the grapevine was where one tethered his donkeys. Hundreds of rock-hewn wine presses that date back to Biblical times are further testimony of the widespread grape cultivation and wine production in ancient Judah.
In recent years, grape cultivation and wine production have returned with a vengeance to the Judean Hills. Over 30 wineries ranging from small garagiste to large commercial wineries dot the landscape of this hilly region. Some of the Judean Hills wineries have already achieved international recognition for their world-class wines.
Our Judean Hills Wine Tour begins from either Tel Aviv or Jerusalem where we depart  to Sea Horse Winery on Moshav Bar Giora.
Ze'ev Dunnie, a former filmmaker, became interested in wine while working on a documentary about Israeli wine. He was mentored by Ronnie James, founder of Tzora Winery and father of Israel's Terroir Driven Wines.
Ze'ev believes in letting the terroir lead him in his winemaking, using minimal intervention and only used oak barrels. He is one of only a handful of Israeli winemakers producing a Chenin Blanc varietal wine that he named 
James 
in honor of Ronnie James who passed away from cancer. Ze'ev's wines are highly regarded by critics in Israel and abroad. 
http://www.seahorsewines.com/
 Sea Horse Winery is not Kosher.
Continue to the archaeological site of Hurvat Etri, the remains of a Jewish farming village from the end of the Second Temple Period. The residents of Itri took part in both the Great Revolt and the Bar Kokhba Rebellion against Rome, with evidence of destruction layers from each of these wars. The most interesting part of the remains for a wine tour is the well preserved Second Temple Era wine press that will enable us to learn about the production of wine in Ancient Israel and the centrality of wine in both diet and culture in antiquity.
Next we'll visit Ella Valley Vineyards, the largest winery in Israel with a woman winemaker. Lin Gold got her Masters in Oenology at the University of Adeline in Australia. She is the second winemaker at Ella Valley taking over from the founding winemaker, Doron Rav-Hon.
Ella Valley is a true Estate Winery with all of its vineyards under full control and in close proximity to the winery. Of special note is their Merlot which manifests itself a bit differently in the Ella Valley, coming out bolder and less soft than in most other locations. Most of the wines are produced from Bordeaux and Rhone varieties of grapes. 
http://www.ellavalley.com/en
We'll end our tour at Domaine du Castel. Domaine du Castel was started by Eli Ben Zaken as a home winery making wine for family and friends. Elia and his wife Monique had the first real Italian restaurant in Jerusalem. One of Eli's friends send a few bottles of his wine to Serena Sutcliffe MW who was the head of the wine department at Sotheby's in London. Serena's fax to Eli in which she described his Grand Vin as the best Israeli wine that she had tasted convinced Eli and his family to devote themselves to making their small family winery a commercial success.
Domaine du Castel's offerings slowly grew to now five wines: the Grand Vin and Petite Castel, Bordeay Blends, "C" a French-style Chardonnay, the Rosé du Castel and a new red wine.
The Ben Zaken family-Eli's two sons and daughter all work in the winery. Castel has just completed a new winery facility in Yad Hashemona-our tour will be soon be at the new site. http://www.castel.co.i