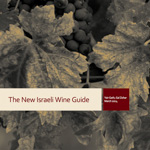 Yair Gath and Gal Zohar released  The New Israeli Wine Guide last night at the newest branch of the Derech Hayayin chain of wine shops in Tel Aviv. The New Israeli Wine Guide fills the void formed two and half years ago when Daniel Rogov passed away. Daniel Rogov published Rogov's Guide to Israeli Wines annually from the 2004 through the 2012 edition that was released posthumously. While Israeli wines are featured in Hugh Johnson's Pocket Wine Book and articles in the general press, wine related magazines and blog posts, there has been no comprehensive guide to Israeli wines published since November 2011. While the New Israeli Wine Guide is off to a modest beginning with 70 wines rated, future editions will be more comprehensive.
Yair Gath is the wine writer for Yisrael Hayom daily Hebrew newspaper and Gal Zohar is a renowned sommelier with work experience in both London and Israel. While I've personally know both Yair and Gal for only about a year and a half, I have been impatiently waiting for the release of their wine guide ever since I first heard about the project.
While Rogov's Guide was based on winery visits and tasting, Yair Gath and Gal Zohar chose to taste Israeli wines in double blind tasting. The resulting scores are modest and the tasting notes are succinct and understandable to both the expert and novice.
The newest Derech Hayayin wine shop on Derech Hashalom may well become the choice wine shop for me. Conveniently located just off the Ayalon Highway and with ample free parking it will be easy for me to stop off for wine on my way home after a day's work. With special pricing and a permanent discount for members of their Loyalty Club, I signed up and purchased six bottles of wine before the book launch began. The first branch of Derech Hayayin was launched in 1993 by the Shaked Brothers who were and continue to be one of the largest distributors of wine in Israel. At the time, the abundance of wine available was new in Israel and since I lived nearby I frequently visited the store. Today Derech Hayayin offers over 2000 different wines from Israel and major wine producing countries, both old world and new world.
One hundred wineries supplied more than 300 wines that were tasted in preparation of releasing The New Israeli Wine Guide. After seeing the quality of the guide, I am sure that more wineries will be sure to provide samples for the tasting next year. The 70 best wines are included in this 24-page guide that is available for free download as a PDF document. Next year the bigger and better New Israeli Wine Guide will be offered for sale as an e-book. At present the authors do not have intentions of publishing a paper book unless someone is interested in funding a print edition.
Adam Montefiore, Israel's wine ambassador to the world, wrote the forward to the New Israeli Wine Guide. Adam currently serves as the wine development director at Carmel Winery, Israel's largest and oldest commercial winery. Adam also writes a weekly wine column Wine Talk for the Jerusalem Post daily newspaper.
The New Israeli Wine Guide is divided into nine different sections, each devoted to old world blends, varietal wines and unconventional blends. At the end of the guide is a list of the wineries included in the book. The winery entries include the winery's contact information, number of bottles produced and a brief, but enticing description of the winery.
The graphic layout of the New Israeli Wine Guide is both pleasant and inviting. Kudos to graphic designer Ron Yadlin. I really like the cover graphic.
The New Israeli Wine Guide release event was attended by many people in the Israeli wine scene including winemakers, winery owners and managers, wine journalists and aficionados. The releases was accompanied by a liberal tasting of Israeli wines as well as choice cheeses and fantastic finger food. All in all a fun evening!
Download The New Israeli Wine Guide Here
לחץ כאן להוריד את מדריך היין הישראלי החדש