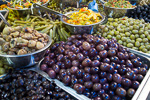 Israeli-American celebrity chef Michael Solomonov and veteran filmmaker Roger Sherman have teamed together to produce a two-hour film special on Israeli Cuisine to be aired on PBS next year. Michale Solomonov is the owner and chef of Philadelphia's number one restaurant, Zahav www.zahavrestaurant.com. Roger Sherman is an award-wining film producer and cinematographer known for his documentaries. Roger Sherman recently released a five-minute teaser of the film that I want to share with you.
I really enjoyed watching this teaser and anxiously wait to see the finished film. What I especially like about the film is that is shows people and places that I regularly visit on my culinary tours and that I incorporate in my standard tours. This includes different markets and restaurants as well as special farms and artisanal producers of goat cheeses, breads and more.
You can get updates on the film on The Search for Israeli Cusine's Facebook Page https://www.facebook.com/IsraeliCuisine.