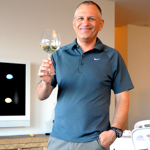 David Perlmutter was born and raised in the US and moved to Israel as a young adult. Before becoming a tour guide David farmed an avocado grove when he was a member of Kibbutz Einat and served in the Israeli Defense Forces..
David has been guiding since 1988 and specialized in private tours since purchasing his first off-road vehicle in 1993. From hiking, mountain biking and off-road trips David has acquired an intimate knowledge of Israel's different geographical areas and enjoys sharing outdoor experiences with his clients.
David Perlmutter began visiting Israeli wineries when the wine revolution of Israel was in its infancy. Over the years, David's knowledge of wine and Israel's wine industry has grown through both experience and formal training. David is recognized as an expert on Israeli wine by  fellow guides, winemakers and other members of the wine industry who regularly turn to David to consult about wine tourism. David has taken a number of formal courses in wine and recently completed the prestigious Wine and Spirits Educational Trust Level 3 Course in Wine and Spirits with Merit.
David is happily married to Tamar and is a father to four teenage boys. David and Tamar are building their home in the new community of Eliav located in the Lachish region of Israel. David is an active volunteer with Magen David Adom, Israel's national Emergency Medical Service  both as a first responder and crewing ambulances at the local station.