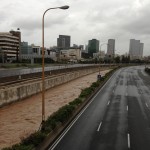 Last week on one of the stormiest days in recent years, Israel's third annual Beer Expo, BEERS 2013 opened at the Nokia Arena.
BEERS 2013 was open from 2:00-5:00 PM to the trade, and from 5:00-11:00 PM to the general public with a modest entrance fee of 60 NIS ($16.00) for a tasting glass and coupons for 5 tastings. Coupons for an additional 5 tastings were 30 NIS ($8.00).
Craft breweries, while a new arrival in Israel, are growing in number and produce great beers. I want to share two beers, one by the oldest microbrewery in Israel and another by one of the youngest. What these two beers have in common is hot peppers. Both beers are brewed with hot peppers, a popular ingredient in Middle Eastern cuisine.
The first beer is Dancing Camel's Leche Del Diablo or "Devil's Milk". Dancing Camel is Israel's oldest microbrewery founded by David Cohen, a transported American in Tel Aviv's commercial Hamasger district. David Cohen left behind an accounting practice in New Jersey in to pursue a passion for brewing beer and to fulfill his long-time dream of living in Israel.
Dancing Camel's Leche Del Diablo is based on a Belgin Helf-Wit wheat beer supercharged with chili peppers. I'm not a big fan of wheat beers, but I love spicy food. The Leche Del Diablo goes down smoothly and only after swallowing does the chili pepper slap you in the face. The hotness of this beer is not overwhelming though, and if you like spicy foods, you'll enjoy this beer! 5% Alcohol.
Hadubim (The Bears) is a young brand founded by brothers Dagan and Rotem Bar-Ilan in 2011 when they opened HaAm (the People's) Brewery in a modern facility in the Tel Aviv suburb of Even Yehudah. In addition to their line of five beers, they offer a "One a Month" special edition. Recently the Bar-Ilan brothers opened with a partner , the Beer Market in the Old Jaffa Port's new food market. Beer Market sells only Israeli craft beers and has hosted events for launching new beers. The Beer Market rotates two different Israeli craft beers on tap and sells a full range in bottles.
Esh or "Fire" is the Dubbim's hot pepper beer. Esh with it's fire fighters on the label, is a pale ale brewed from three varieties of American hops with a mild bitterness and a pronounced aroma of hops. During the fermentation shata peppers were added to the batch to achieve the hot spicy effect. The sweetness and bitterness of the pale ale is felt in the mouth and the spicy hotness of the shata peppers hits you in the throat. Hadubbim's Esh is the hotter of the two chili beers at BEERS 2013. 4.7% Alcohol.
Both beers are available in bottles at the Jaffa Port Beer Market.