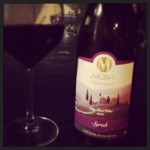 Mony Syrah 2010
On opening this wine comes at you like a heavyweight champ at the ring of the bell. But Sam Saroka, winemaker at Mony Vineyard since 2009, advised me to decant this wine well
before drinking. Not having a decanter, I poured the wine into glasses a full 45 minutes before drinking at dinner with grilled chorizo sausages (Israeli beef).
To my delight, the wine had lost its rough edges and evolved into a pleasurable accompaniment to dinner. I am a fan of Rhone varieties here in Israel. The Mony Syrah has dark fruit aromas with black pepper. Aged with toasted staves perhaps a bit longer than required, this is what gives the wine it's aggressive opening.
At a price of 60NIS/$17, I wasn't expecting greatness, but definitely received VFM and a nice wine with dinner.
Am even enjoying a second glass on its own instead of desert.
Only in Israel: Mony Vineyard at the Deir Rafat Monastery, is privately owned by the Artoul family, Christian Arabs from the Galilee village of Maghar. Mony Vinyard's wines have been Kosher since 2005.
Le'Chaim!